Main, Genesee, Pearl Street Block Over Time
Part 1: Main & Genesee
The Genesee House above is the second building by that name on the Main-Genesee corner. The first (a wooden building) was torn down in 1842 to make way for the above brick structure. The (new) Genesee House was torn down in 1881 to make way for the Genesee Hotel.
Image source: Picture Book of Earlier Buffalo.
1894 Buffalo City Atlas.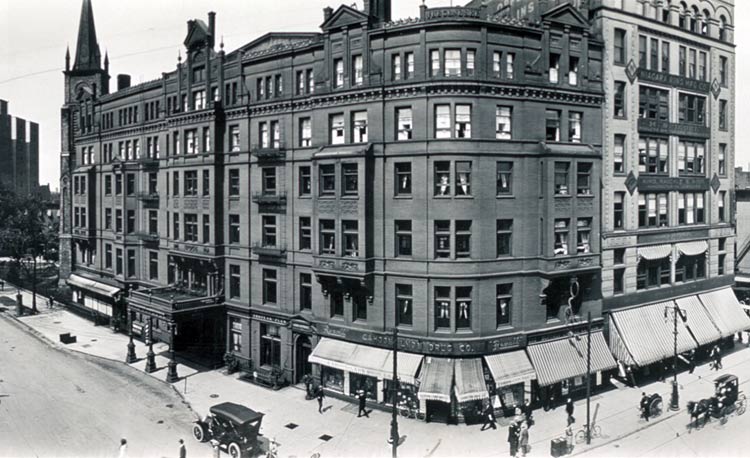 Genesee Hotel, Main and Genesee corner. A fine hotel, it served Buffalonians and visitors from 1881 to 1922. During the Pan-American Exposition, it offered $2 daily rates, European plan. It was demolished to make way for the Genesee Building. The tall building at the right side of the image above was the D.E. Morgan building, designed by E. B. Green and built in 1890. It was demolished in the 1980's as part of the conversion of the Genesee Building to the Hyatt Regency Hotel. Image source: Library of Congress.
| | |
| --- | --- |
| 1924 | 2007 |
The Genesee Building was designed by Buffalo's Green and Wicks architectural firm and opened in 1923. It was a modern office building with a steel frame, concrete slab floors, double-hung steel windows, cast iron fronts on floors 1 & 2, brick and terra cotta on the upper floors, and copper roof. The general construction cost was $.27 per cubic foot ($3.87 in 2015 dollars).
The Genesee Building was under-utilized by the early 1980's and local developer Paul Snyder incorporated the building into his Hyatt Regency Buffalo Hotel. The new hotel addd an 11-story tower and an atrium which was built over Genesee Street, continuing the truncation begun by the Convention Center of one of the radial streets in the original Buffalo street plan. The cast-iron fronts of the Genesee Building were retained (and re-created where necessary) and can be seen from inside the hotel's atrium.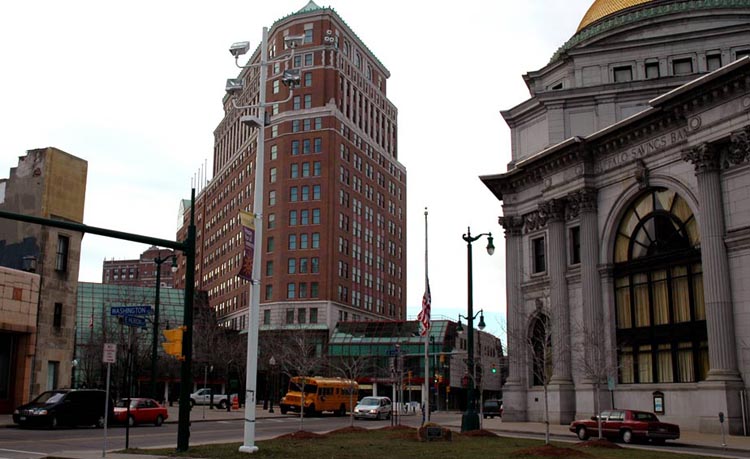 Pull the arrow tab left or right to view a comparison of the past and present views of this location.
See
Part 2
for another story about this block.