Main, Genesee, Pearl Street Block Over Time
Part 2: Genesee & Pearl Street
Central Presbyterian Church, corner Pearl & Genesee Streets. Image source: Picture Book of Earlier Buffalo
The Central Presbyterian Church was originally founded in November 1835 with 33 charter members; located across the street from the above edifice, they called themselves the "Pearl Street Presbyterian Church." In 1848, they re-organized under their present name and built the new church (above) with a seating capacity of nearly 2,000. See an interior view here.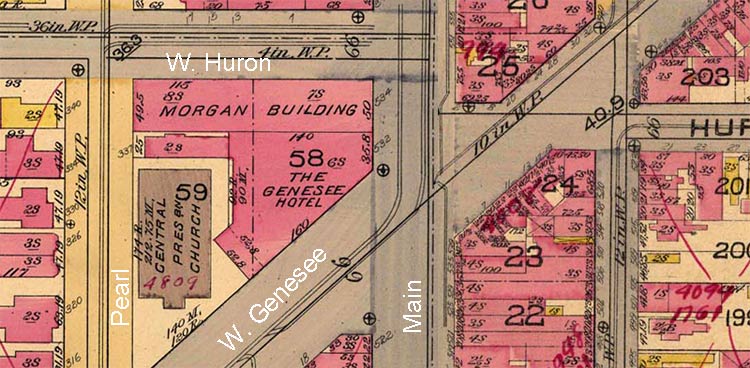 1894 Buffalo City Atlas.
The Central Presbyterian Church determined to sell the building and land in 1909 and move its congregation to Main Street & Jewett Avenues, where it continued until 2006. See more church history here. (Takes you out of this site.)
1911 image of Main and Genesee Streets, showing the Genesee Hotel with the spire of the Central Presbyterian Church visible behind it, and the first location of Victor & Co. department store (on Main St.). Image source: Library of Congress.
Majestic Theatre on site of former Central Presbyterian Church. Image source: private collection.
The Majestic Theatre was built in 1912 on the property formerly occupied by the Central Presbyterian Church. It was a playhouse which, 7 years after opening, was managed by Dr. Peter C. Cornell (father of Katharine Cornell) who moved his company from the smaller, older Star Theater across the street. In 1927, when it closed in preparation for demolition, The Courier-Express said, "Practically all of the great actors and actresses of the present generation have appeared at the old Majestic Theatre."
The same view around 1920 after the new Genesee Hotel was constructed. Image source: private collection
1978 view. Image source: private collection
1931 view of Victor's Department Store next to the Genesee Building. Image source: Buffalo News.
A. Victor & Company was a well-established buffalo furniture department store when it purchased the corner of Genesee & Pearl Streets and constructed their new 10-story building after 1927. The exterior was white terra cotta.
| | |
| --- | --- |
| | Mementos of Victor's |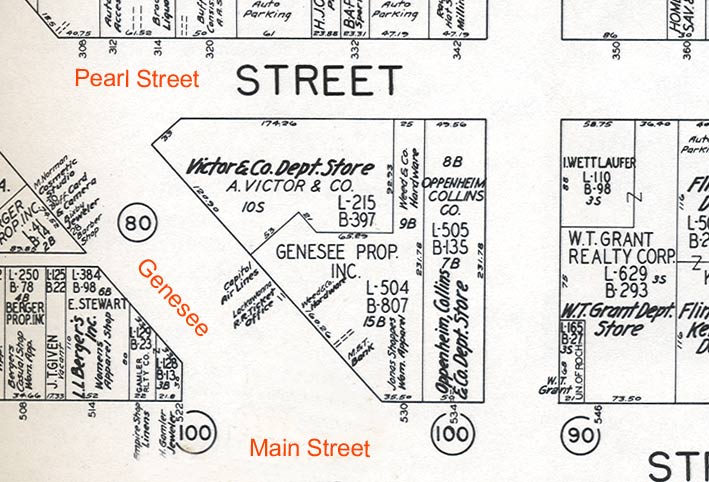 1950s. Image source: Nierenstein Maps
2016 Bing aerial image
The outlined area above shows the land occupied by the Hyatt Regency Hotel & Conference Center, which includes part of Genesee Street.
See Part 1
for a story about the other part of this parcel which fronted Main and Genesee.