The Altman-Daniels Home: 787 Delaware
---
Early stereoview of the Abraham Altman mansion. Image source: TBHM
Abraham Altman, a German Jewish immigrant from Wurttenberg, founded a clothing firm with his brother around 1857, A. Altman & Co. He made his fortune during the Civil War, as did a number of other Buffalo businessmen (see John Blocher). His income in 1863 was $8732 ($163,000 in 2013 dollars). In 1865, he was one of the organizers of the Third National Bank and was its president for over a decade. He also had numerous real estate investments in Buffalo.
And so he built a mansion at the corner of Delaware and Summer Street in 1869 in the latest style. It was estimated that the cost for the mansion and its L-shaped carriage barn was $100,000 ($1.8 million in 2013 dollars). Three stories high, it was made of red brick with Ohio white stone trimmings and was seventy-one feet wide and ninety-six feet long. The sizes of the five main rooms on the first floor averaged 18' x 28'. First floor rooms had black walnut woodwork except for the parlor (maple) and the library (oak). The dining room, described as a "cool and spacious apartment" was 16' x 28'. The second floor had five bedrooms, a play room/study, and a billiards room. There were three more guest bedrooms on the third floor, plus three servant bedrooms and a 16' x 60' room that would be used for parties and dancing.
Abraham Altman had a socially ambitious wife, Clara, a daughter Cornelia, and a son David Deveaux. All seemed perfect at the mansion for ten years. Buffalo's first "rosebud party," a formal debut, was held in the mansion for daughter Cornelia, who was described as "a Spanish type beauty with a creamy complexion, large lustrous eyes...and dark wavy hair." Buffalo's famed Poppenburg orchestra played at the house; the dinner was catered by Delmonico. And then, in 1879, 18-year old David was thrown from his horse during a polo match in Delaware Park, and died. His father seemed to lose interest in everything. In 1881 he resigned from his office at the Third National Bank. By the time he died in his mansion in 1888 at age 66, Altman had no fortune left. His wife, who converted from Judaism to Episcopalian later in life, died in 1897. Daughter Cornelia refused all offers of marriage and died in a sanitarium at age 47 in 1904.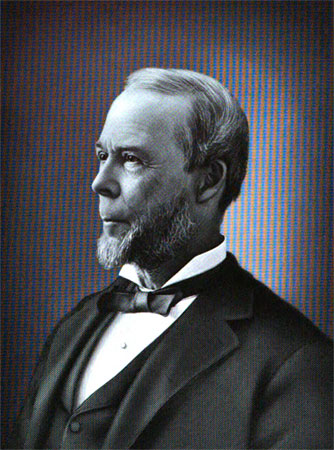 Charle Daniels, LL.D. Image source: Genealogical & Family History of WNY
The mansion was to come to life again after Altman's death. Mary King Enos, widow of Laurens Enos who made his money in milling, was a 43-year-old widow when she and 53-year-old Charles Daniels, a respected state judge, married in June, 1878. Her only surviving child, Grace, was married two months earlier to Harry Hamlin.
The Daniels moved into 787 Delaware and hosted many gatherings. Judge Daniels was a self-made man, born in 1825 to poor Welsh immigrants somewhere in New York state; he never knew exactly where. His father was a shoemaker and moved the family to Toledo, Ohio to try for success there. Charles was permitted to attend school long enough to read and write, but had to learn the cobbler's trade to help support the large family. When he was 17, his parents died and he returned to New York and discovered the law profession. In 1842, he made his way to Buffalo, going to work in a shoe shop and studying for the law. He passed the bar in 1847 at age 23 and became a law partner to Eli Cook for a few years, then struck out on his own. In 1863, he was appointed to the New York State Supreme Court to fill a vacancy created by the death of Judge James G. Hoyt. He was thereafter judge until reaching mandatory retirement age in 1891 and was invariably described as "an indefatigable worker." Daniels then ran successfully for Congress and served two terms.
Daniels was a founder and the first dean of the new University of Buffalo Law School, serving for ten years until his death in 1897. He had two sons by his first wife, Thomas of Dayton, Ohio, and Charles H., a lawyer practicing in New York City.
Mary Daniels lived in the mansion, with summers in Newport, Rhode Island. until her death in 1917 at age 72. She gave a "brilliant festivity" for her grandson, Chauncy Jerome Hamlin, there. He was the only son of Grace and Harry Hamlin. Harry would die at age 52 in June 1907 in an automobile accident. His occupations were described as "millionaire clubman, horsebreeder and automobile enthusiast." He died instantly in Williamsville when his car, racing a runabout on Main Street, struck a buggy driven by a butcher and his grandson. Grace, then widowed like her mother, saw her son become a lawyer and marry poet and journalist David Gray's daughter, Emily. Their grandson is actor Harry Hamlin.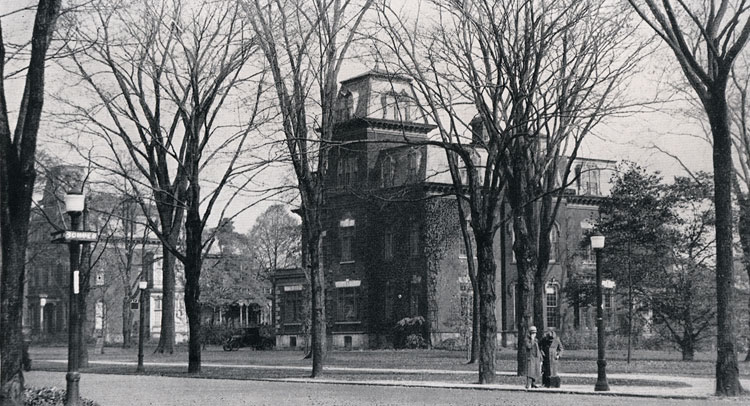 787 Delaware in the 1920's. Image source: Publications of the BHS, Volume XXX

Charles Meldrum Daniels c. 1910
Image source: Internet
The old mansion had yet another life before meeting its demise. Charles Daniels' grandson by his son Thomas, Charles "Charlie" Meldrum Daniels, purchased the mansion in 1921 with his wife, Florence Goodyear Daniels. Charlie had enjoyed a stellar career as a swimmer out of the New York Athletic Club, winning three gold medals in the 1904 Olympics, one gold medal in the 1906 Olympics, and a gold again in the 1908 Olympics. He also won a silver and two bronze medals. This record of five individual gold medals and eight total medals was not exceeeded until Mark Spitz and Michael Phelps set their records. He set seven world records of various distances between 1907- 1911 in three countries. He is credited with refining the freestyle stroke, "Australlian Crawl," by adding a six-beat kick that some named the "American Crawl."
Charlie and Florence made many dramatic changes to the mansion, updating it for their use in the debuts, weddings and receptions of their two daughters. But when their two daughters were young, they spent the months from February to October at Sabattis, a 5,568 acre estate in the Adirondacks purchased by Florence in 1912 with a bit of her $5 million dollar fortune. The family constructed a mansion and outbuildings, a tennis court, a golf course and all engaged in activities relevant to the season. Charlie Daniels was also a squash champion at the New York Athletic club, and later in life a top-ranked amateur golfer.
In 1929, the Daniels demolished the mansion to save on taxes and the land lay vacant
Buffalo architect Milton Milstein's design for a new Jewish Community Center. Image source: UB Archives
In the mid-1940s, Buffalo's Jewish community needed a new, permanent home for recreational, educational and cultural activities. Its Jewish Community Building on Jefferson Avenue was vacated involuntarily in 1943, taken for use by the Willert Park Government Housing Project. The Young Men's Hebrew Association lost its home to a fire in 1945. A merger of these groups created the Jewish Center of Buffalo. And, in 1946, the land at Delaware and Summer (plus 60 additional feet along Delaware) was purchased for a new building.
Jewish Community Center postcard. Image source: private collection.
Funds for the $600,000 construction were raised by the sale of a building on Monroe Street, $500,000 in pledges by 1,500 families, and a capital fund grant from the United Jewish Federation of Buffalo. The new building opened in 1949. It remains in use.
The same site in 2014.