Lars Gustav Sellstedt (1819-1911)
Black-and-white image of self-portrait, aged 40 (1859)
Image source: "From Forecastle to Academy" autobiography

The man called "the father of art in Buffalo" was born in Sweden to a well-to-do family. His early education included his only formal art training, "twelves lessons by a beautiful young woman." All of that ended which his father died, his mother remarried, and twelve year-old Lars found life with his stepfather impossible. So he went to sea as a cabin boy and would spend the next 11 years of his life traveling the world aboard various cargo vessels and even a man-of-war. During these years, he mastered the English language, read voraciously, and practiced sketching and painting.
At the age of 23, he left the oceans for work on the Great Lakes, which he had heard was a better work environment. Based in Buffalo beginning in 1842, Sellstedt pursued his painting while earning a living on lake boats. Finally, three years later, he determined to make his living at painting portraits, something in demand in the young city of Buffalo. He asked $5 - $15 per portrait, or whatever was offered. More than one landlord accepted a portrait in exchange for rent during those years.
In keeping with his life habit of continuously improving his mind and art, he briefly studied with English portrait painter Matthew Wilson who stopped in Buffalo for a time. He also secured permission to sit in on Anatomy classes in the new Buffalo Medical School (later called the U.B. Medical School).
"Buffalo Harbor From the Foot of Porter Avenue" (1871). Painting owned by Albright-Knox Art Gallery
This would be one of the first paintings to become a permanent part of the collection of the new Albright Art Gallery.
Sellstedt knew painter William Wilgus and rented his studio at Main & Erie streets while Wilgus was out of town. Thomas LeClear came to Buffalo in 1847 and they became great friends. For a time he shared a studio with painter William H. Beard, who came to Buffalo in 1851.
A contemporary described him as a "broad-shouldered, sturdy man of average height, with deep-set brown eyes and full, curling beard and mustache above a necktie invariably red."
The Buffalo Y.M.C.A, which had a standing committeeon art, had long desired an organization supporting the arts in the city. Finally in 1862, a number of Buffalo men and artists met to establish the Buffalo Fine Arts Academy. Sixteen curators were chosen including Millard Fillmore, Lars Sellstedt, William H. Beard, Thomas Le Clear. Wealthy men contributed financially and the first exhibition of art and sculpture was held in December, 1861. The three exhibition committee members, which included Sellstedt, went door to door in the city to request the loan of paintings from the walls of the city's wealthy residents.
Lars Sellstedt would serve as the BFAA's superintendent for 28 years, using his energy and engaging personalilty to keep the organization going during its fledgling years. He was "a good mixer" with the influential men of Buffalo who "valued his friendship... and with implicit faith in his good sense and judgement were ready to follow his lead into that strange and unknown world of the Fine Arts and to assist him with their money and influence." (Henry Ware Sprague)
Sellstedt would also serve as president of the BFAA for a year (1876-77) and, in 1911, was named honorary president.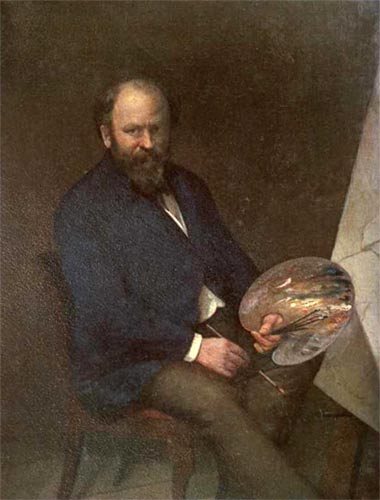 Self-portrait (1872) Painting owned by Albright-Knox Art Gallery
Sellstedt became best known for his portraits but was also successful at landscapes and seascapes. His peak years of fame were the 1860's and 1870's. Over his long career, he painted portraits of such Buffalo luminaries as Charles Rohlfs, General Peter Porter, William Fargo, Sherman Rogers, William P. Letchworth, J.N. Larned, E. Carlton Sprague, Elbridge Gerry Sprague, James O. Putnam.
He also painted portraits of Millard Fillmore and Grover Cleveland, owned by the Buffalo Club. He knew Fillmore intimately because his wife's sister married Solomon Haven, a member of Fillmore's Buffalo law practice. He and Grover Cleveland were members of the Jolly Reefers, a small fishing club on Grand Island.
His best known and most critically praised portrait was a self-portrait, at right, painted in 1872. It was this submission to the National Academy of Design that secured his election as an associate member in 1873, then a full member in 1875. A critic of the time said, "It represents him at work in his studio, seated before one of his unfinished canvasses, palette in hand...the rapt, intense expression of the artist is not only most lifelike, but reveals at a glance the great force and strength of character combined with that rare, artistic, poetical soul..."
Decades later, another critic said more succinctly, "Without a doubt, it is his masterpiece."
Sellstedt home and studio, 78 West Mohawk St. Image source: Picture Book of Earlier Buffalo
Sellstedt's warm personality found its match in his second wife, the former Caroline Scott. Her father, whose home (above) they would occupy for 50 years, was the first licensed M.D. in New York State. Dr. William K. Scott was so revered by his son-in-law that he called the man his "second father." Sellstedt's wife was intelligent, a talented poet, and socially connected in Buffalo. In the dedication to his 1909 autobiography, he said that she "has made the noon and evening of my life replete with social happiness." Their home was the social, art and literary center of the city for half a century. Sellstedt's studio, located on the second floor of the rear of the house was called a " genial place." Here he generously mentored and advised other artists.
Move through the slideshow below of a sampling of Sellstedt paintings by using the controls "back" and "next."


Back Next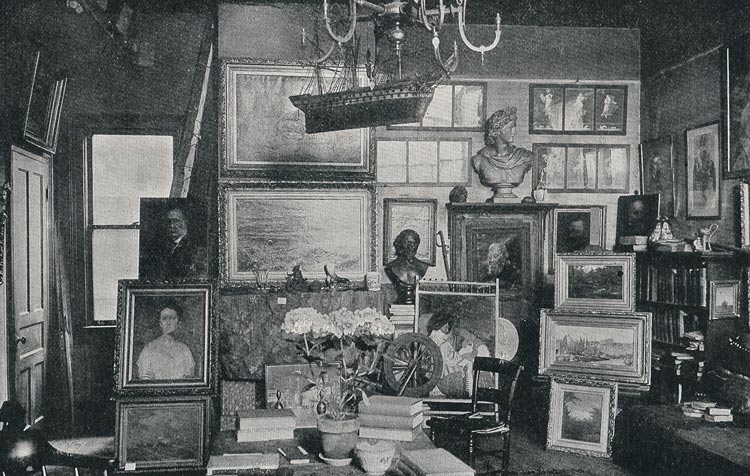 Sellstedt's studio at 78 West Mohawk. Image source: Picture Book of Earlier Buffalo.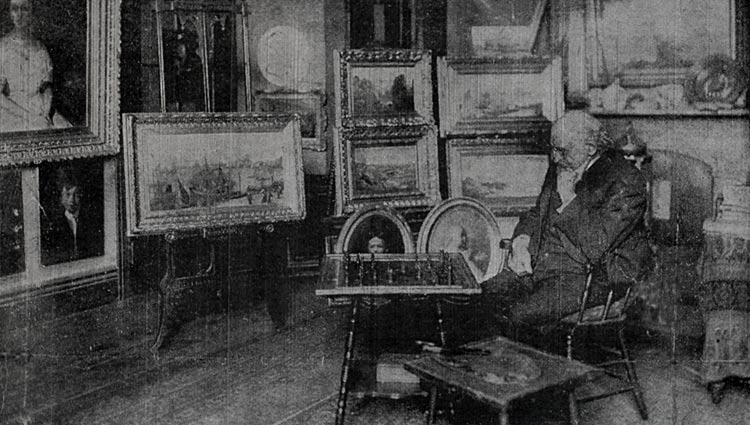 Lars Sellsted in his studio posed before a chess board. Image source: Buffalo Courier (BECPL Scrapbooks)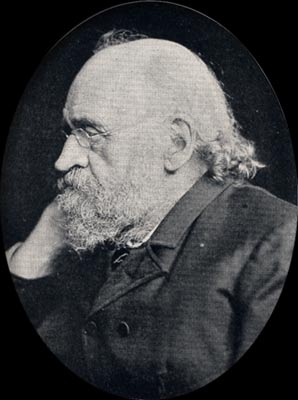 Photo of Sellstedt, 1900, 81 years old.
Image source: Men of Buffalo
In his later years, Sellstedt wrote his autobiography, "From Forecastle to Academy" (1904) (available online). He then set to work to write the history of art in the city, most of which he witnessed or helped to make. In 1911, "Art in Buffalo" was published to great local acclaim; it remains a valuable resource into the personalities and trials of establishing a continuing presence for the fine arts in Buffalo (available online in 2012). The year after his death, his work, "Life and Works of William Wilgus," was published posthumously.
The Buffalo Fine Arts Academy became the governing body of the Albright Art Gallery in 1905, to the great credit of its most active supporter on the ground. In addition to the paintings here so credited, the Albright-Knox Art Gallery also has a sketch book of the artist's trip to Italy.
When he died on June 9, 1911, the Buffalo Express said, "He was a loyal citizen of Buffalo for over a half-century and did more than any man to encourage among Buffalo's rising generation the study of art."
Without false modesty, Sellstedt concluded his autobiography thus: "I love to think that I might have been a better painter had I had the early training needed to become one. Ambition I had, high standard was mine, too high, perhaps, for my limited powers. In one thing, however, I have not failed; I have not failed in my loyalty to the pure, the good, the beautiful in Art."
The most recent exhibition of the paintings of Lars Sellstedt was in 1962, when the Albright-Knox mounted an extensive exhibit curated by Walter McCausland.