Charlie Miller's Livery Business
---
Charles W. Miller, 1890s. Image source: Men of New York
Charles Wright MIller was born on January 19, 1837. His father, Jacob S., came to Buffalo in 1828, three years after the opening of the Erie Canal. He established the second transit line in Buffalo in 1847, with an omnibus line of four vehicles that ran from Central Wharf to Cold Spring, a settlement near what is now Main Street and East Utica Street. The omnibus operated on a 'pay as you leave' basis and, if a passenger wished to stop, he or she would pull a leather strap fastened to the driver's leg, one pull for the right side of the street, two pulls for the left side. Young Charlie Miller assisted in his father's enterprise by selling tickets, one ticket for sixpence or twenty for a dollar.
In 1855, when Charlie was 18 years old, his father suddenly died and he took over the business at 300 Washington Street which was known around the city as Miller's. He kept the business going through challenging financial times and faced a crossroads in 1860 when the first street car company was formed by S.V.R. Watson, Dr. Walter Cary, G.R. Watson, Charles G. Coit, and Andrew J. Rich. In the face of such overwhelming competition, Charlie Miller sold his transit business to the new company which, in turn, hired him to manage it. Years later he laughingly said, "I was engaged at the munificent salary of $50 a month and I worked so late nights that I often met myself coming to work in the morning."
After three years, he quit and bought the livery stable on Washington Street in 1864. He began with seven horses and seven buggies. By 1872, he was successful enough to require more space.
Original location of Miller's Livery, Pearl Street (west side) between Eagle & Court St.
Image source: Picture Book of Earlier Buffalo
So he bought a building at 202 & 206 Pearl Street (the current location of a parking garage), added a coach and baggage express and the next year in 1873 he secured a contract with Commodore Vanderbilt to put agents of Miller's company on board all incoming New York Central trains. They took orders from passengers arriving Buffalo for their transportation and delivery of their baggage. He would eventually secure rights to do the same from every railroad line entering Buffalo.
He revolutionized passenger and baggage transportation when he opened his ticket office on Eagle Street across from the Iroquois Hotel. A traveler could purchase a ticket and in a single transaction arrange to be picked up at home or a hotel, transported to the respective train station, and have baggage processed through to the traveler's final destination. No other company in the U.S. had observed the need for such coordination of travel arrangements, and it was immediately successful. Eventually, hotels in St. Augustine, Florida and Augusta, Georgia, invited Charlie Miller to set up similar arrangements for their hostelries.
Delaware Avenue Stables. Image source: Buffalo Express
Ad for Miller's Livery. Image source: TBHM
Charles W. Miller, 1902. Image source: Twentieth Century Buffalo
He turned his attention to Niagara Falls, where livery service was abysmal, run by shifty hackmen who charged tourists whatever they wanted at the end of a trip. He formed the Miller-Brundage Coach Company with a prominent Niagara Falls man and began to drive out the existing business. They brought in attractive carriages, healthy horses, uniformed drivers and their company prevailed. It was said, "With him, to conceive is to execute."
In 1884, he had another idea, to cater to the wealthy who were building mansions along Delaware Avenue. He purchased 535 and 537 Delaware and built a livery stable equipped with higher grade horses and a line of the finest coaches, coupes, victorias, landaus, etc. They were equal in elegance with the costly private carriages in the neighborhood. It was easy to contact Millers's to have a coach and driver sent because, in 1879, Miller's Livery was the first business in Buffalo to have a telephone.
Miller continued to diversify. In 1882, he bought a former circus wagon to use for moving and by 1902 had nine larger moving vans in use.
After beginning with one hearse, Miller's offered local funeral directors nine hearses by 1902, six black and three white.
By 1890, he was beginning to look for a larger structure.
One of Miller's Victorias on Delaware Avenue. Image source: Buffalo Express
In 1892, he bought a site at 73 West Huron Street and hired a young Buffalo architect, William Lansing, to design it. At this time he sold his Pearl Street livery but was still using it when it burned in January, 1893. Within days, he was in business again, having leased the old Cyclorama building at 369 Franklin Street.
In spite of the presence of quicksand beneath the building from an underground tributary of the Buffalo River, the six story Miller Livery was successfully built on pilings driven deep into the ground. With a 64.5' frontage on West Huron, it was 230' deep. The front was faced with Medina limestone and pressed brick, the sides with substantial brick.
Miller's c. 1900. Image source: Buffalo The Electric City
Working with William Lansing, Miller acquired a building ideally suited to his purpose. The basement contained the blacksmith and horse-shoeing shops. In the rear was storage for heavy wagons, vans, and buses. The basement also contained the most modern power plant, all parts of which were duplicated to ensure continuous operation, with steam boilers, engines, pumps and electrical generators. The exhaust from the generators was fed into a series of piping on most floors to heat the building. Pumps ran continuously to maintain the sprinkler system, keep a 10,000 gallon tank on the roof filled, and to pump into the city's sewers the continous flow of water under the basement. A hydraulic system powered three elevators: a 4-ton capacity elevator running from the basement to the top floor for carrying grain, feed, big wagons, and sleighs; a 2-ton capacity elevator running from the first floor to the roof for coaches and sick horses; and a smaller passenger elevator.
The first floor had offices in front and driver's quarters. In the rear was a standing stable with horses hitched to vehicles ready to go when called at this 24-hour facility. The second and third floors were quarters for the horses, which they climbed to on ramps from the floors below that were padded with leather scraps and sawdust to prevent slipping. The nearly 300 stalls had wood floors; the center area of the floor was asphalt with drains. Horses were washed there in the available hot and cold running water. Ventilation shafts ran to the roof and other shafts were used to drop hay and grain from the storage above.
The fourth and fifth floors were used for storing coaches, which also featured an asphalted area for washing. On the fifth floor craftsmen painted and varnished vehicles, and boys washed blankets and dried them in a heated room.
Miller's Livery on West Huron was called, "A Palace for Horses," when it opened in March, 1894. Buffalo was on the verge of a new era, however, and it involved the automobile.
Miller's Livery building when owned by Hertz, Huron Street, 1978. Image source: private collection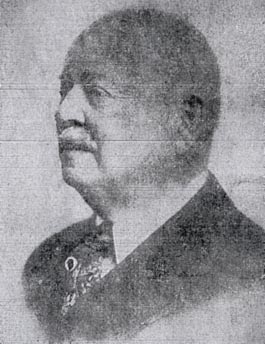 Charles W. Miller. Image source: Buffalo Express
Charlie Miller would adapt to the times, however, and moved to automobile taxis before he sold his business to Charles A. Finnegan in July 1918. He was 81. For years, his nickname had been "Gramp" and he was welcomed socially everywhere for his wit, his kindness, and his remarkable memory.
After a fall left him bedridden for a number of months, he died on February 26, 1921. The Buffalo Times, in a brief memorial, said, "There are few of 'Gramp' Miller's type left to us - the men who stand firm and kindly in this mad rush we curiously call progress, diverting us to fields more fair, to sweeter companionships and to the understanding that the very best of life is in its living, in the appreciation of friends and the enjoyment of things around us. It is hard to give him up."
He was survived by his wife, the former Louise L. Noxon and his only daughter, Kate, married to Harry T. Ramsdell. Funeral services were held in the Miller home at 172 Summer Street.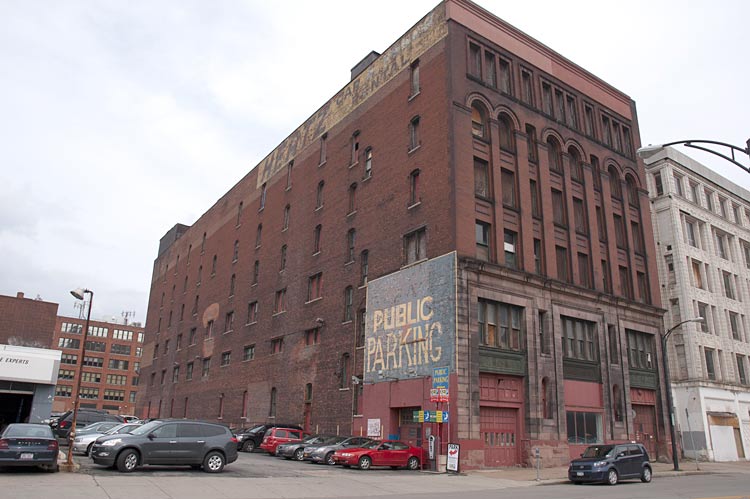 Miller's Livery building, 2012
In the 1920s, the building became the Huron Street Garage and later the Hertz Garage. It was used for auto storage and became vacant in 2000.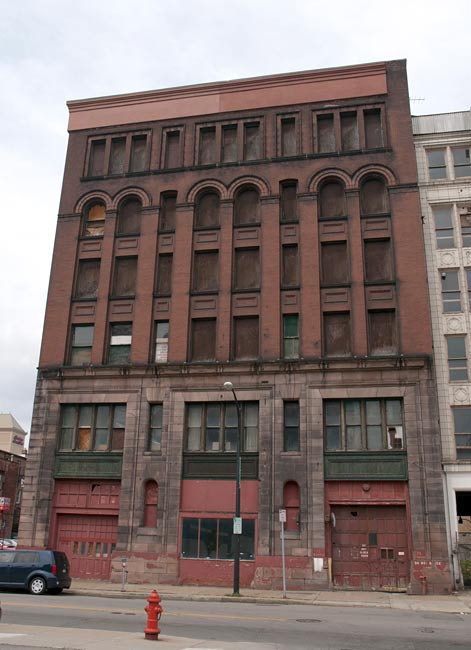 Miller's Livery Building, front view.
In 2003, Buffalo developer Mark D. Croce purchased the building. In 2017, the building will be leased to the Buffalo School District for use as the second location for the Emerson School of Hospitality. Croce also owns the
Curtiss Building
immediately adjacent on West Huron St.