The Marine by Any Other Name & Address: Part 2
---
By the mid-1960's, Marine planned to expand again and began to buy up each of the properties in the block bounded by Main, Swan, Washington and Seneca streets. Some of those "over-age" buildings became a parking lot for bank customers. But in 1967, the bank abandoned plans to expand in that block when a nationally known real estate development firm from Boston, Cabot, Cabot and Forbes, came to Buffalo with a plan to build on 10 acres of lower Main Street already included in the city's redevelopment zone. Once Marine's agreement was secured, the developers announced in November, 1967, that they would build a 40-story building, a 300-room hotel with stores and parking, and other office buildings. The first phase, a $50 million dollar tower, would be named after its principle tenant, Marine Midland. The bank committed to a long-term lease and would occupy a substantial amount of the space in the tower. The Buffalo Evening News blared the news in a banner headline and said that it was "a bold plan for the biggest downtown rebuilding project ever conceived in Buffalo."
The architects of record were Skidmore, Owings and Merrill, but partner Gordon Bunshaft, a Buffalo-born architect who had recently designed the Albright-Knox Art Gallery addition, received credit for the design. The developers said that the tower would straddle Main Street as the Pan-Am building straddled Park Avenue in New York. Funding was a combination of private mortgage and grants from HUD and the New York State Department of Housing.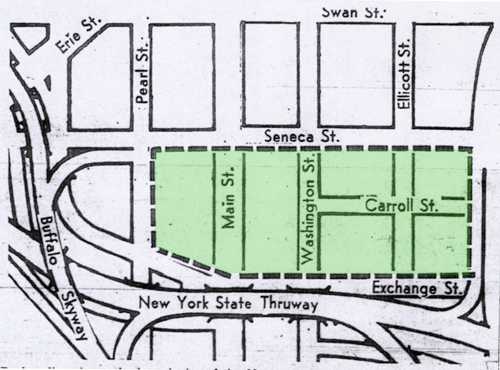 Map of the land and streets consumed by the Marine Midland Center
Below are photos taken by historian Paul Redding in 1967 of some of the lower Main Street buildings that would be demolished for construction of the New Marine Midland Building. At the groundbreaking in 1969, County Executive B. John Tustuska referred to the new structure as a "major transplant" for a "rundown, disheveled, unkempt and neglected area." In 1970 Buffalo Magazine called the area "Buffalo's skid row."
Marine Midland moved the following entities into the tower in December 1972: Marine Midland Trust Company, Marine Midland Banks, Inc. and Marine Midland Services Corporation. The building became known as the Marine Midland Center. At that time, the Marine had 229 domestic and 5 foreign banks. It was the third largest registered bank holding company in the U.S. and the 12th largest banking system.
Marine continued to acquire other banks and in 1976 all independent member banks were renamed Marine Midland Bank with a regional suffix (e.g. Marine Midland Bank - Western Region). By 1980, the bank had again become a nationally chartered bank; with assets of close to $20 billion dollars it was New York State's largest state bank.
And that year, Marine sold 51% interest to the Hong Kong and Shanghai Banking Corporation, HSBC. Its name changed to Marine Midland Bank, N.A.
By 1985, Marine was the largest bank lender to small businesses under the SBA program. It had 12,500 employees, more than one-third of whom were in Western New York.
In 1987, Marine became a wholly owned subsidiary of HSBC. The bank's logo was changed in 1994 to the red and white HSBC "bow tie."
When Marine changed its name in 1998 to HSBC, Marine Midland Bank CEO Malcom Burnett said, "What our brand stands for and what we at HSBC stand for is integrity, trust, and quality services."

1978 view of Main Street, looking toward the waterfront. Image source: author's collection
The same view in 2012
HSBC sold its bank branches in 2011 as part of global restructuring. After 161 years, what had been the Marine was finished as a local bank. HSBC Bank USA still occupied 22 floors of the HSBC building, three-quarters of the office space in the tower. It announced that it was looking at other office space in the city for the future.
(In May, 2012, HSBC closed the Buffalo anti-money laundering unit, eliminating 77 employees; it was part of an effort to centralize these operations in New York City and Delaware. In December, 2012, the bank announced that it would vacate the tower in late 2013 when its lease expired. The employees would move to the nearby HSBC atrium. And on December 11, 2012, HSBC Bank USA agreed to pay a record $1.92 billion dollars to avoid facing federal charges of money-laundering. The building fell into default, was sold and has been renamed One Seneca Tower by its new owner.)
Special thanks to Buffalo photographer James Cavanaugh for permission to use his aerial photo of the center at 200 Main Street known in 2006 as the HSBC tower.