Orchard Park Post Office Art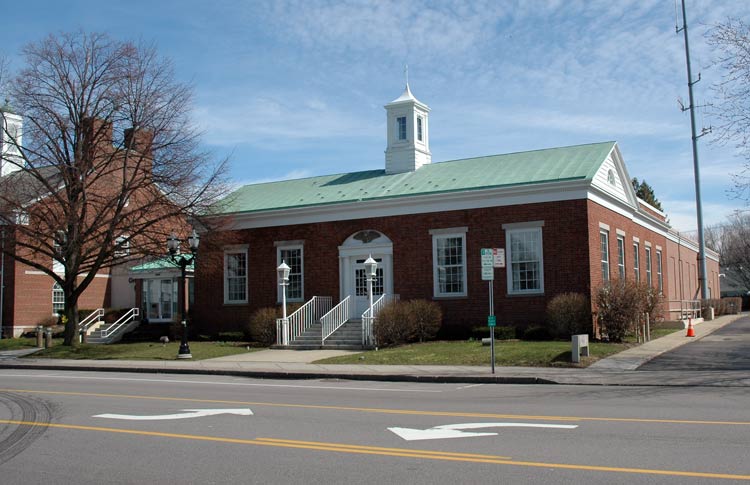 Old Orchard Park Post Office
The Orchard Park Post Office building on Buffalo Street above was constructed in 1941. It is identical in design to the Springville Post Office. Its public artwork, a walnut relief sculpture, was installed in 1943. To read more about the Treasury Department's Section Art program, look here.
Orchard Park outgrew its post office building and in 1988, the USPS moved into its new building nearby. The village obtained ownership of the old structure and it was incorporated into the adjacent 1949 Municipal Building a few years later. The space formerly occupied by the post office is now a courtroom.
The new Orchard Park Post Office on School Street.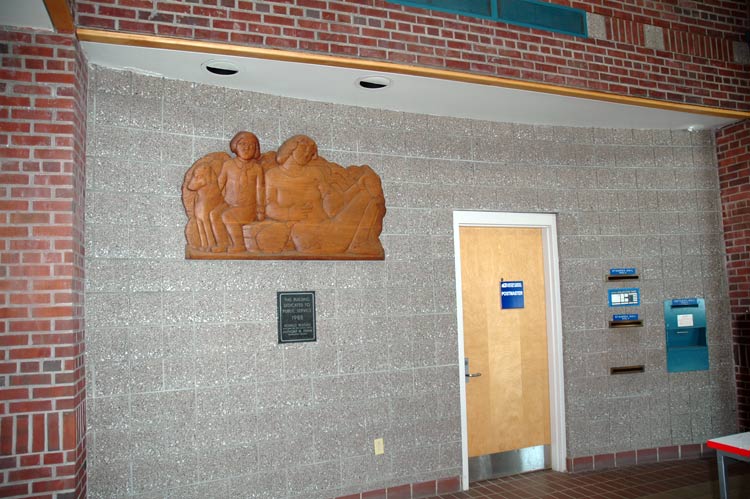 According to Postal Federation Preservation Officer Dallan C. Wordekemper, all post office art remains the property of the USPS in cases where a facility moves to a new building and is moved if feasible. Orchard Park's post office art, a walnut relief sculpture formerly mounted over the Postmaster's door in the old building, is now installed beside the Postmaster's office.
Sculptor Francis P. de Luna was awarded the commission for the Orchard Park Post Office art. He elected to use walnut wood to create a pastoral image of a woman and child with dog which he entitled, "In the Park." For this 5' 2" by 2' 11" by 2" relief, he was paid $700 in 1943. It is one of the few post office artworks in a medium other than paint.
Although local residents recall this piece as very dark in color, it was refinished during its move to the new building and therefore the walnut patina is absent.
Francis de Luna (1926-1975) was elected to the National Sculpture Society.
Special thanks to Dallan C. Wordekemper and Bill Montcrief of the U.S. Postal Service for their assistance with this page.