Middleport Post Office Art
Middleport, NY Post Office
The post office at Middleport was constructed in 1940-1941, near the end of the extensive construction of these structures as part of the U.S. Government's efforts to create employment during the Depression. It is a simplified Colonial Revival design, brick with a hip roof, and is more reflective of art deco and modernist designs than the earlier post offices. Its mural was installed in 1941. For more information on the installation of art in post offices by the Treasury Department, look here.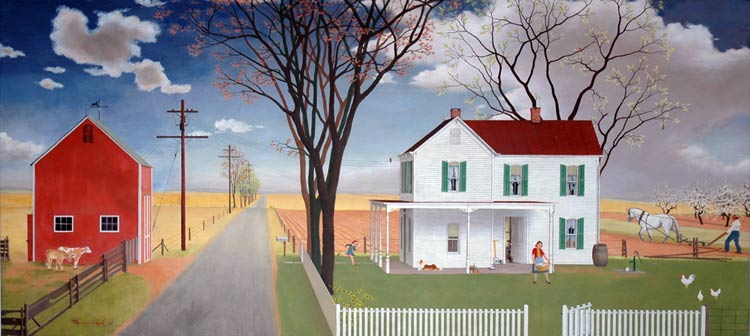 "Rural Highway" oil on canvas 5' 6-1/2" x 11'3", 1941,Section.
Look here for a large view of the mural.
Marianne Appel (1913-1988) was selected to create the artwork for the Middleport post office. Born in New York City, she studied with Bradley Walker Tomlin and Peppino Mangravite at Sarah Lawrence College and the Woodstock School of Painting. She had a number of exhibits in her early years, including the Whitney Museum of American Art. Her art ranged from landscapes to illustrations and often incorporated family scenes, such as the family included in "Rural Highway" above, her rendition of contemporary life in rural Middleport.
The painting above was restored in 1996 after damage from a leak and therefor it appears particularly bright when compared with other post office murals of the time.
Marianne Appel and her first husband, painter Austin Mecklem, were selected to created the post office mural for Wrangel, Alaska in 1943.
In the 1970's, Marianne Appel Harms became known for her detailed muppet designs as a member of the Jim Henson Company; among her credits was the design for Gaffer, the backstage cat in "The Muppet Show."
Special thanks to Middleport acting postmaster Diana Quackenbush for her gracious assistance providing a copy of the Lockport Union Sun & Journal article detailing the mural's history and restoration. (Lockport Union Sun & Journal, May 4, 1996, Julia Maedl reporting.)