Lancaster Post Office Art
The Lancaster Post Office at 5406 Broadway.

"Early Commerce in the Erie Canal Region," 4 feet 10 inches x 14 feet, oil on canvas, 1940, Section. To view a larger version, look
here
.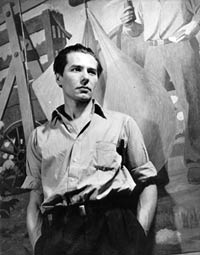 Arthur Getz 1942, standing in front of his Alabama Post Office Mural
Arthur Getz is known to many long-time New Yorker magazine readers. From 1938 to 1988, he created 213 covers, more than any other artist. The same year as his first New Yorker cover, twenty-five year old Getz was awarded his first mural commission through the Treasury Department's Section of Fine Art. It was for the Lancaster Post Office mural, above. He was to receive two additional commissions through the Section, and his murals also can be seen in the Bronson, Michigan and Lucerne, Alabama Post Offices.
New Jersey native Getz became known for more than magazine illustration in his long career; he died in 1996 at age 83. Additional information on this artist is here.