Hamburg's Union Pleasant School Mural
Restored mural, 2008. 9' x 18.5' oil on canvas. View a very large image
here
.
In 1934, Buffalo artist Angelo Charles Scibetta (1904-1989) was commissioned by the PWAP (Public Works of Art Project), a works program of the Depression, to create a mural for Hamburg High School. Born in Italy, Scibetta painted a scene on the beach in the Mediterranean. He was additionally commissioned to create four large murals painted on boards (5' x 10') with artist cousin Pascal Scime for the same school.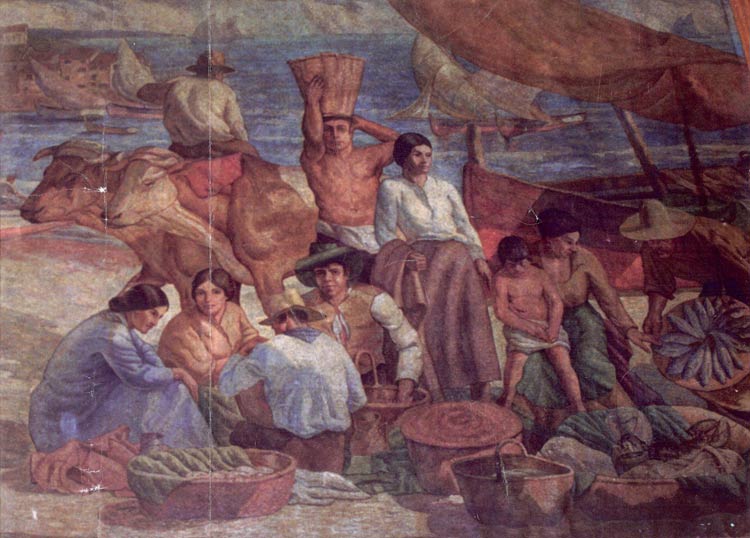 Portion of the mural before cleaning. Image credit: Union Pleasant Elementary School
The mural in its original location on a stair landing in the (former) Hamburg High School, c. 1935. Image source: Union Pleasant Elementary School.
The mural remained in the school until the building was renovated after 1980. Esther Kowal, Town Historian, oversaw the retrieval of the mural in 1981 and rolled it onto a carpet tube. The Town accepted ownership of the mural and two of the other paintings.
Yearbook photo of teacher with students examining the mural. Date unknown. Image source: Union Pleasant Elementary School.
In 2004, the mural was rediscovered in storage in the Hamburg Historical Society barn. It was determined to be in good condition and a committee was formed to pursue restoration and reinstallation in the school, now called the Union Pleasant Elementary School.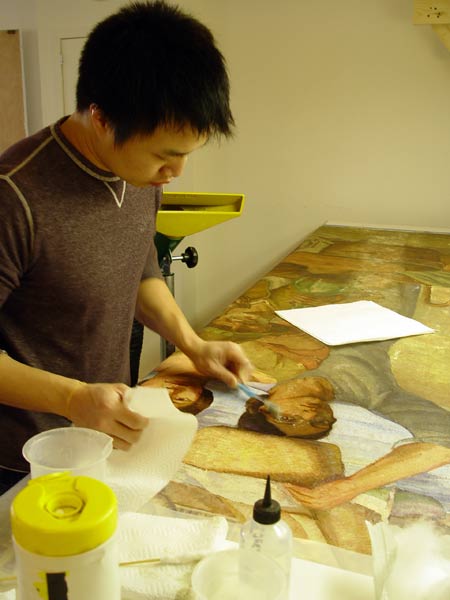 Pre-Program Intern Cuong Nguyen of ConservArt LLC cleans the mural. Image credit: Kevin Gleason ConservArt LLC
Stages of restoration of a face from the mural. Image credit: Kevin Gleason, ConservArt LLC
Joy Scime, descendent of artist Pascal Scime, views the restored mural in the school entrance. Image credit: Union Pleasant Elementary School.
Raising the necessary $32,000 restoration costs took three years; the final $1,000 was contributed by the Hamburg School District and the Hamburg School Foundation. The placement of the restored mural was determined by environmental testing and identification of a more suitable location for viewing the mural than the original stair landing.
Angelo Charles Scibetta received other commissions for paintings in Buffalo public buildings and then moved to California where he worked in the movie industry as a set decorator and art director.
View the booklet from the restored mural's unveiling November 14, 2008 here. The committee continues its fundraising so that the mural can be augmented by a plaque, protective ropes, and a viewing bench.
Special thanks to Mural Restoration Committee Co-Chair Amy Low, art teacher at Union Pleasant Elementary School in Hamburg for her assistance with this pictorial.
And thanks to Kevin Gleason of ConserArt LLC for his assistance with this and permission to use images of the restoration.