Fredonia Post Office Art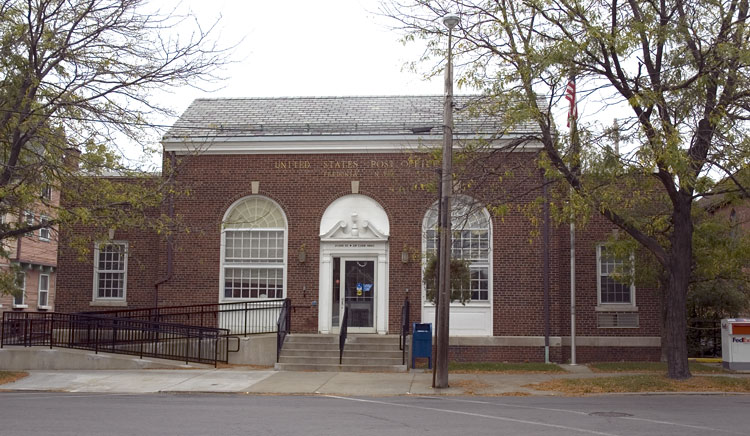 The Fredonia Post Office, 21 Day Street.

Arnold Blanch (1896 - 1968) was awarded the contract to paint the mural for the new post office in Fredonia in 1937; he was paid $680. He was also contracted for murals in post offices in Norwalk, CN and Columbus, WI.
A Minnesota native, Blanch moved to Woodstock, NY in 1922 and became an important member of the artists' colony there. His teachers were Kenneth Hayes Miller, John Sloan and Robert Henri. In addition to his scenic paintings, Blanch was also known for his ceramics, book illustrations and decorative designs. He told an interviewer in 1940, "Most people want to make money so they can stop working; most artists want to make money to they they can have the time to work."
He taught at several universities and was an influential teacher. Although his style during the 1930s was Social Realism, depicting the "bitter, occasionally macabre images of American poverty," he refrained from such commentary in his harvest scene for the Fredonia post office.
Harvest scene, oil on canvas 6' x 11' 10", Arnold Blanch, 1938.
Look here
for a larger view.
c. 1937 photograph of the newly completed mural. Image source: Parma Conservation/Fredonia Post Office.
The mural in 2006 before conservation, with two small test areas cleaned (see kneeling woman center). Image source: Parma Conservation/Fredonia Post Office.
The Fredonia post office mural suffered water damage to the right edge of the mural around 1990 and was repaired. inaccurately. The woman in the blue dress at far right received legs in the restoration which Blanch did not paint in his original.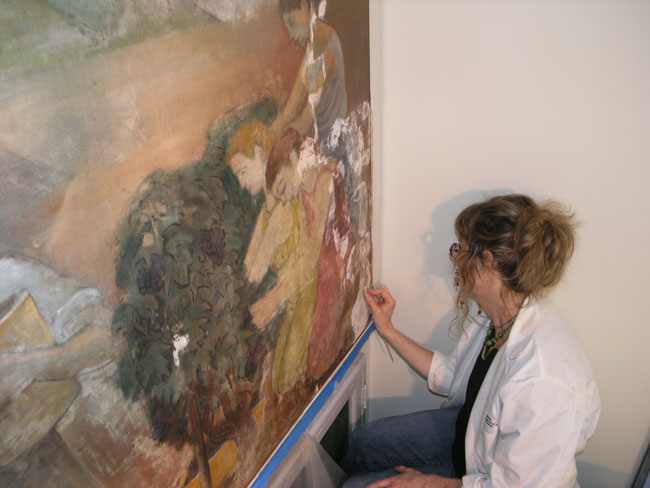 Parma Conservation technician removing the previous restoration efforts. Image source: Parma Conservation/Fredonia Post Office.
In 2006, Parma Conservation was awarded a contract by the U.S. Postal Service to conserve the mural and remove the previous restoration. Using a photograph of the mural from the files of the National Archives, Parma removed the restoration and re-created the damaged area of the the mural.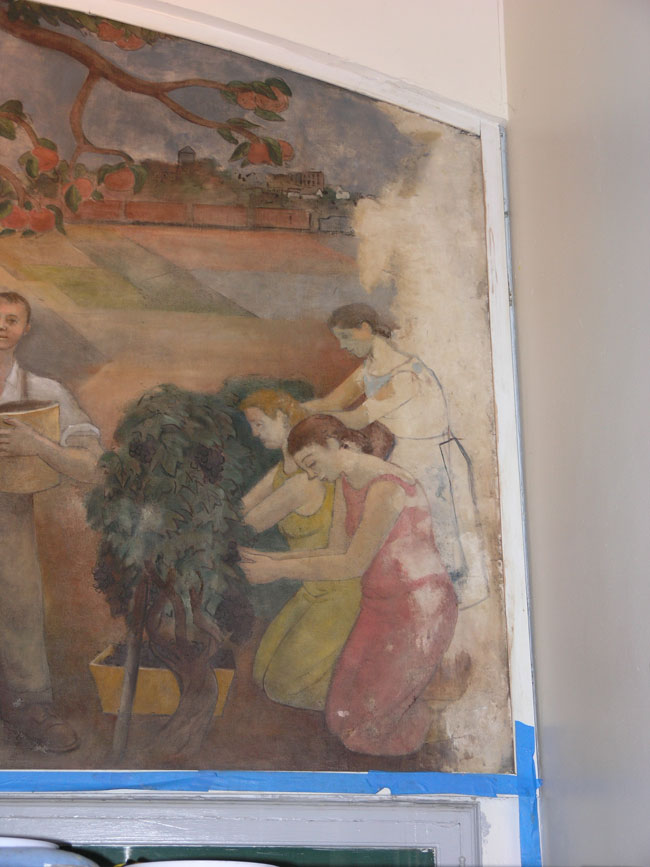 Cleaned area of damage with accurately drawn outlines of the image to be re-painted. Image source: Parma Conservation/Fredonia Post Office.
The conservation and restoration was completed in 2006. Parma Conservation specializes in conserving murals and has conserved 100 post office murals since its founding in 1998.
Special thanks to Fredonia Postmaster Tim Sullivan for his assistance with this page.