Depew Post Office Art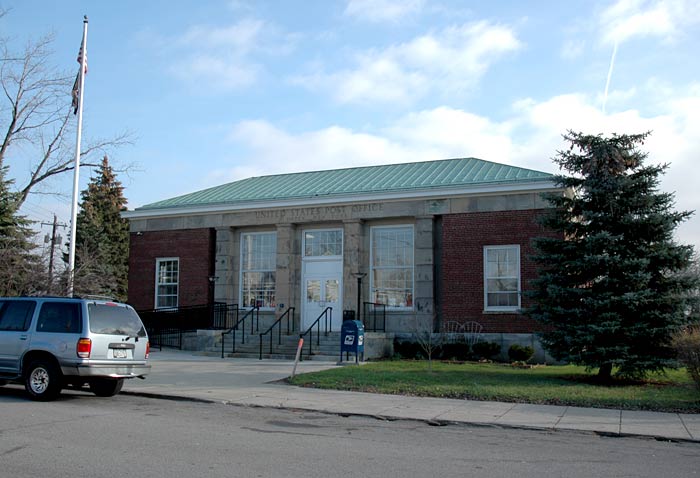 The Depew Post Office opened in 1938; the Treasury Department spent $51,000 in constructing it.
"Beginning of Day," 5 feet x 12 feet, oil on canvas, 1941, Section. To view a larger version, look
here
.
In 1941, artist Anne Poor, only 23 years old, was awarded a $750 commission by the Treasury Department's Section of Fine Arts to paint the mural for the Depew NY Post Office. She would receive another commission in 1942 for the Gleason, Tennessee Post Office mural. As the child of a novelist and artist, Anne Poor (1918 - 2002) began her study of art at an early age, and studied at the Art Students League in New York City while in high school. In the 1930's, she worked on WPA murals for the U.S. Department of Justice and Department of the Interior with her stepfather, Henry Varnum Poor.
In an article published in the Autumn 1981 Woman's Art Journal, writer Slyvia Moore described the Depew mural thus: "The Depew mural, showing the factory life of steelworkers...reveals the artist's study of Renaissance works where figures are clustered in small, carefully balanced groups, as in paintings by Piero della Francesca, for example. At the right edge, where workers take leave of their family, is a porch with slender supports that is not only a type common to small town houses, but is also very like the architectural structures in Renaissance paintings. Anne Poor was beginning to blend the knowledge acquired from her studies with direct observation of her subjects. There is mastery of composition and a feeling for subtle uses of light in this very early and ambitious work."
Anne Poor joined the Women's Army Corps in 1943 and became an official artist/correspondent, creating many drawings and oil paintings of military life. For the rest of her life, she traveled, taught and continued to paint in various media. Her paintings are in the collections of the Metropolitan Museum of Art, the Whitney Museum, and the Brooklyn Museum of Art.
A website exists here which displays some of Anne Poor's later works.
Special thanks to Donna Massanti, Officer in Charge of the Depew Post Office, for her kind assistance.