Attica Post Office Art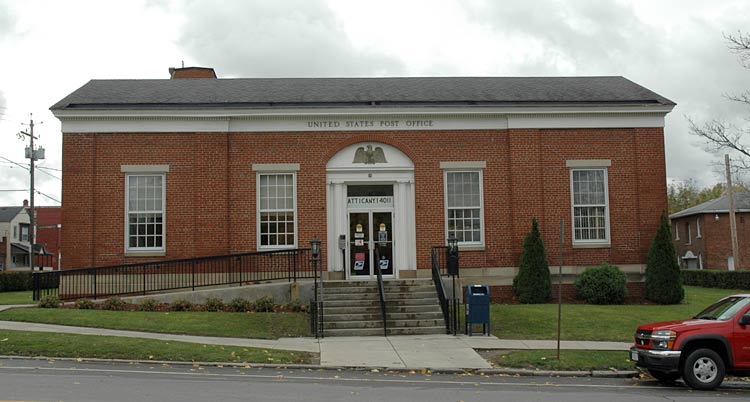 The Attica Post Office building on the corner of Main and Exchange Street above opened September 18, 1937. It is identical in design to the Springville Post Office. Its Treasury Department Section artwork, a mural, was installed in 1939. To read more about the Treasury Department's Section Art program, look here.

"Fall in the Genesee Country," oil on canvas, 3' 6"' x 13' 4 1/4", Thomas J. Donnelly, 1938. Look
here
for a large view
Thomas J. Donnelly (1893-1971) was among those selected by the Treasury Department' Section for Painting and Sculpture in 1935 (see the article below. In addition to the Attica Post Office in New York, he would also complete murals for post offices in Clyde, Mt. Kisco and Ridgefield Park, New Jersey.
63 Artists Named for Federal Work
30 New Yorkers Are Among 19 Sculptors and 44 Painters Assigned Over Country Selected in Competition
Juries Act on Sketches and Models for WPA Decoration of Public Buildings
New York Times, December 14, 1935
Thirty New York artists, nearly all of New York City, are among the nineteen sculptors and forty-four painters designated today by the Treasury Department's Section of Painting and Sculpture to execute work for Federal buildings throughout the country.
Out of thirty-two recommended competitors for commissions to execute eleven murals and twelve statues for Post Office and Justice Department Buildings in Washington, sixteen were New Yorkers. The other fourteen from New York were included among thirty-one additional entrants listed for future work.
All those selected were represented in the recent competition in which 405 mural sketches were submitted by 147 painters and sixty-two models by forth-seven sculptors...
Thomas J. Donnelly worked in oil, fresco, printmaking and, prior to 1940, focused on impressionism. He was a member of the Art Students League of New York and later served on its board. His work was among the first to appear in the Whitney Museum of American Art, one of a number of national museums which exhibited his work. He was known for landscapes, coastal scenes, murals, and portraits, and as a teacher. Donnelly lived in Valhalla, New York.