Angola Post Office Art
Angola, NY, post office.
Angola's post office was constructed as part of the Treasury Department's efforts to create work during the Depression. One percent of the construction budget for the post offices was set aside for "decoration." Look here for background on post office art.
The cast stone relief sculpture in place above the Angola postmaster's door, the standard location for post office art.
"A Pioneer Woman's Bravery," a cast stone relief, 2' 7" x 6' 2 1/2" was sculpted by Leopold F. Scholz in 1940. Scholz (1877-1946) emigrated from Austria in 1916, having attended the Imperial Academy of Fine Arts in Vienna. In this scene, a pioneer woman, standing near a body of water, is using a boat hook to fend off an attack by bears while her four children hide behind her. His choice of a heroic woman pioneer was not uncommon in the post office art, which often focused on early American history of the region being depicted by the artist.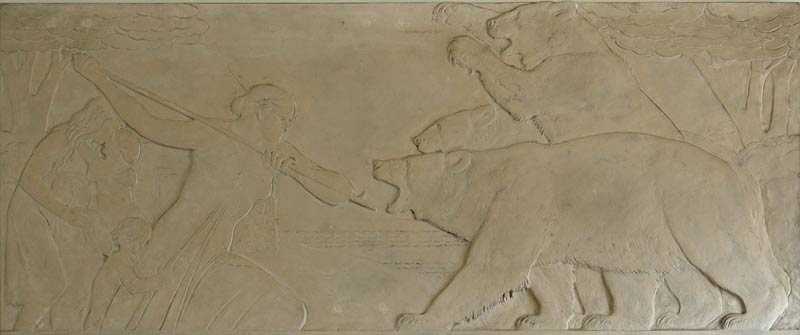 To see a large view of this relief,
look here.
Scholz was paid $700 for this work, one of the few examples of local post office art in a medium other than painting. Scholz also was awarded the commission for the Chattanooga post office (1938), for which he completed "The Mail Carrier" in cast aluminum.
Leopold Scholz was better known in his relationship with his wife, the sculptor Belle Kinney, whom he married in 1921. Together they completed sculpture for the full-size replica of the Parthenon in Nashville, TN and the "Lady of Victory" War Memorial on Pelham Bay Parkway, NY (1932). He died in 1946 at age 69.