Wilson S. Bissell: Grover Cleveland's Friend
---
Wilson S. Bissell. Image source: TBHM publications 1904
Wilson Shannon Bissell, law partner, campaign manager, partner at cards to Grover Cleveland, has slipped under the radar of history because of his preference to remaining behind the scenes. The longtime friends referred to each other as "Wils" and "Cleve" and also were well known in Buffalo as "Shan" and "Big Steve." Charles Armitage wrote that, "Many an afternoon Cleveland and his law partner, Wilson S. Bissell, could be seen at the club [City Club], playing '66' and pinchole." They were called the Damon and Pythias of the Buffalo bar.
When he was five years old, Bissell's family had moved to Buffalo in 1852 from New London in Oneida County, like so many who saw opportunity in the young city. His father founded the Bissell Transportation Company which operated a number of canal boats between Buffalo and Albany.
Wilson Bissell was a big man in several ways, what the New York Times termed, "uncommonly large stature". He stood over six feet tall, was corpulent, and had an excellent mind for the law and administration. He graduated from Yale University in 1869 with honors, having been a member of the Skull and Crossbones; his nickname there was "Big Biss." Returning to his home in Buffalo, he was accepted to study law with the firm of Lanin, [Grover] Cleveland and Folsom. It was there that he became friends with Grover Cleveland. In 1872, he formed a law partnership with Lyman K. Bass; in 1974, Grover Cleveland joined this firm.
Bissell was exceptionally reserved and rarely gave interviews to newspapers. One reporter, Samuel Potter Burrill, wrote of him, "In manner, Bissell was blunt, brusk, austere and irascible, until you penetrated the case of reserve in which he esconsed himself, when he was pleasant, playful and gracious. There was nothing bizarre, dilettante or whimsical about him."
The Weed building, pre-1901. Image source: Picture Book of Earlier Buffalo

Drawing of Bissell, 1893 chain smoking Russian and Turkish cigarettes.
Image source: the Deseret Weekly.
With offices in the Weed building on Main Streeet, Bissell was uniformly respected for his legal mind and was popular among his peers. His specialty was as corporation counsel to various railroads, two of which he served as president. His annual income was around $50,000 (c. $1,300,000 in 2015 dollars).
As Grover Cleveland began to seek higher public office, Bissell served as campaign manager and general fixer. When Cleveland became President in 1885, Bissell fervently wanted a cabinet post or the position of Consul General in London. But Cleveland, despite their friendship, believed that his first duty to the country was to demonstrate that he was above personal appointments. Their friendship survived and, in 1886, when Cleveland married Frances Folsom, Bissell was the best man.

295 Delaware Avenue, before 1922.
Image source: TBHM publications, Vol 26

When Wilson Bissell and Louise Sturgess married, they first lived at 295 Delaware Avenue.


Image source: the Deseret Weekly


It was said that Bissell first saw Geneva native Louise Sturgess sing at a concert in Buffalo and it was "a case of love at first sight on both sides." She was a classmate of Frances Folsom (Cleveland) at Wells College. He was 43, she was 27 when they married in 1890. For their wedding, her Worth wedding gown was ornamented by a necklace of pendants of diamonds, a gift from her husband. She was described as "tall and well-rounded" with dark brown hair and blue eyes. She "gives one the impression of strong self-reliance and great energy, determination and ambition."
1069 Delaware Avenue, c. 1930. Image source: Buffalo, City Beautiful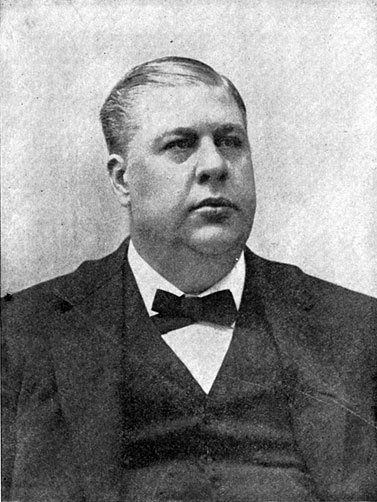 Bissell photo, c. 1893. Image source: Buffalo Express Yearbook
In 1893, Grover Cleveland was again elected President for a historic non-consecutive term. This time, Bissell was offered the position of Postmaster General and he accepted, successfully improving the operations of that office and eventually becoming the most popular cabinet member of that administration. After two years, however, the political machinations and constant petitions by appointment-seekers drove him to resign and return to Buffalo. He and his wife moved to a newer home at 1069 Delaware Avenue in 1898 where they could entertain in style and Bissell could dote on his daughter, Margaret Hally Bissell. The lifelong bachelor had become a fervent family man.
Wilson Bissell served Buffalo in numerous capacities: president of the Young Men's Association, on the board of the library, vestryman and chair of the music committee of the Trinity Episcopal Church. He was also chair of the finance committee of the Buffalo Historical Society during the time when negotiations were ongoing with the State of New York regarding funding for a state building to be constructed during the Pan-American Exposition. In a memorial essay in the BHS publications, Frank Severance wrote, "Buffalo's enjoyment of this building as a permanent and free institution, is in good measure due to services rendered by the Hon. Wilson S. Bissell." He was also president of the Buffalo Club.
Wilson was appointed Chancellor of UB 1902 but would not occupy that position for more than a year. In 1903, he was diagnosed with Bright's disease, a kidney disorder that was often found in diabetics. He died at age 56 in Buffalo on October 6, 1903.
On October 7, the Buffalo courts adjourned in tribute to his life.
Grover Cleveland was an honorary pallbearer.